Brew Your Best Self
Unleash unstoppable confidence made for Women.
Your path to total self-assurance begins here!
Empowerment in Every Sip: Brew Your Best Self for Unbreakable Confidence
Confidence Brewing for Strong, Empowered Women
Do you ever find yourself hesitating to pursue your dreams or speak your mind, all because that nagging self-doubt creeps in? Does the fear of judgment or the feeling of not being "enough" hold you back from reaching your full potential?
You're not alone. Many women face these same challenges regarding self-confidence, and it's time to break free from these limitations.
According to a survey by the Dove Self-Esteem Project, nearly 80% of women admit to avoiding social or professional opportunities because they don't feel confident in their appearance or abilities. That's a staggering number of missed opportunities, dreams put on hold, and voices left unheard, all because of a lack of self-esteem.
Now, think about your own life. Have you ever turned down a job opportunity, hesitated to voice your ideas in a meeting, or declined an invitation to a social event because you felt you weren't good enough or feared being judged?
Imagine a life where you radiate self-assuredness in every situation, confidently pursue your goals, and embrace your unique qualities without hesitation. The good news is that self-confidence is a skill that can be learned and mastered, and this journey can be the turning point in your life.
Welcome to a world where you are not held back by self-doubt but empowered by self-confidence. Let's embark on this transformative journey together.
INTRODUCING...
The only self-confidence course you'll ever need.
Brew Your Best Self is not just another course; it's your passport to a transformed life.
It's the ultimate solution to the nagging problem of low self-esteem and confidence that has been holding you back for far too long. This masterclass is meticulously designed to help you break free from the shackles of self-doubt and unlock your full potential.
Professionally curated journal, workbook:

Self-Worth and Self-Esteem Journal (42 pages) - This journal has powerful exercises, thought-provoking prompts, and insightful reflections.
How to Ditch Imposter Syndrome Journal (16 pages) - You'll find practical strategies and empowering exercises inside.
Subconscious reprogramming audios: Confidence and Self-Esteem Hypnosis + Beating Imposter Syndrome Subliminal Audios.
The tools inside Brew Your Best Self will help you to...
☕Gain the confidence to pursue your dreams and embrace opportunities without self-doubt holding you back.
☕Build a strong foundation of self-worth and self-respect, empowering you to set and achieve ambitious goals.
☕ Develop the skills to express your thoughts, ideas, and desires assertively and confidently.
☕ Learn how to bounce back from setbacks and challenges with newfound strength and resilience.
☕ Embrace a more positive and compassionate view of yourself, fostering self-love and acceptance.
☕ Transform into a self-assured, empowered woman who radiates confidence in every aspect of life.
☕ Experience a profound transformation in your personal and professional life, breaking free from the limitations of low self-esteem.
Fresh Brewed Review
"Before I took the Brew Your Best Self Masterclass, I was stuck in a never-ending cycle of self-doubt and insecurity. I would constantly second-guess myself, always feeling like I wasn't good enough, smart enough, or capable enough to pursue my goals. This lack of confidence took a toll on my personal and professional life."
Here's Exactly What You Get...
Self-esteem Booster Journal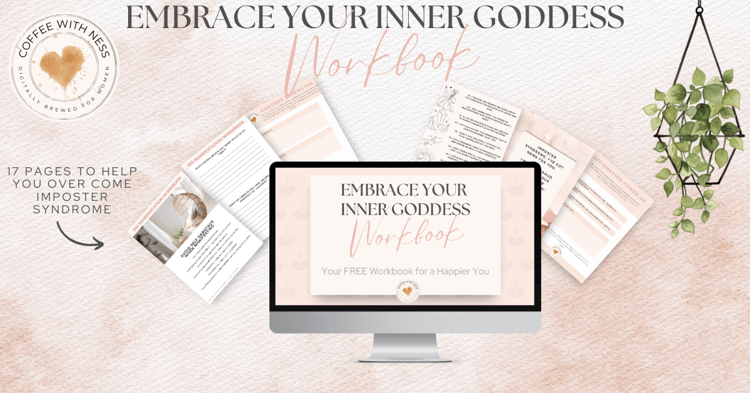 Guidebook to a Happier You
Start Brewing Your Best Self Today!
One Time Purchase
Gain instant access to the course with a one-time payment.
Confidence Brewing for Strong, Empowered Women
✨ Boost your self-confidence and self-esteem.
✨ Empower yourself to pursue your dreams fearlessly.
✨ Develop essential communication and resilience skills.
✨ Join a supportive community of like-minded women.
✨ Achieve happiness, fulfillment, and professional success.
Don't let self-doubt hold you back any longer. Invest in yourself today and take the first step towards becoming the confident, empowered woman you were meant to be.
👉 Use Promo Code: CONFIDENCE20 at checkout to claim your $20.00 discount.
Secure your spot now and unlock the potential for a brighter, more confident future! Act fast, as this limited-time offer expires in just 10 days. Don't delay; invest in your confidence and success today.
Unstoppable Confidence
our journey to a more confident and empowered you begins now. Don't let self-doubt hold you back any longer. Take the first step towards positive change today. Enroll in 'Brew Your Best Self Masterclass and start your transformation. Your future self will thank you for this empowering decision. Act now for the change you deserve!